I have been revisiting the paintings that I made in 2020 – a series I have called Shamanic Visions. They are all based on various shamanic journeys have taken, either drumming or listening to a drumming track, eyes closed, seeking healing/information/help from the spirits. Whether there are actual spirits responding, or whether I am contacting my deeper subconscious – I don't really care. These vivid and extraordinary experiences unfold like dreams only more solid and memorable, and the beings I meet surprise and delight me with the apparent truth of their independent existence.
While looking at these pictures, I remembered some of the elements that had made up their story, and thought that the ideas, and how they merged in the paintings, would make an interesting blog post.
The earlier of these paintings had fairly simple stories, but there are six that have a more complex mixture of influences and concepts. I'm going to explore two of them here and the others in future posts.
Blackthorn Mourning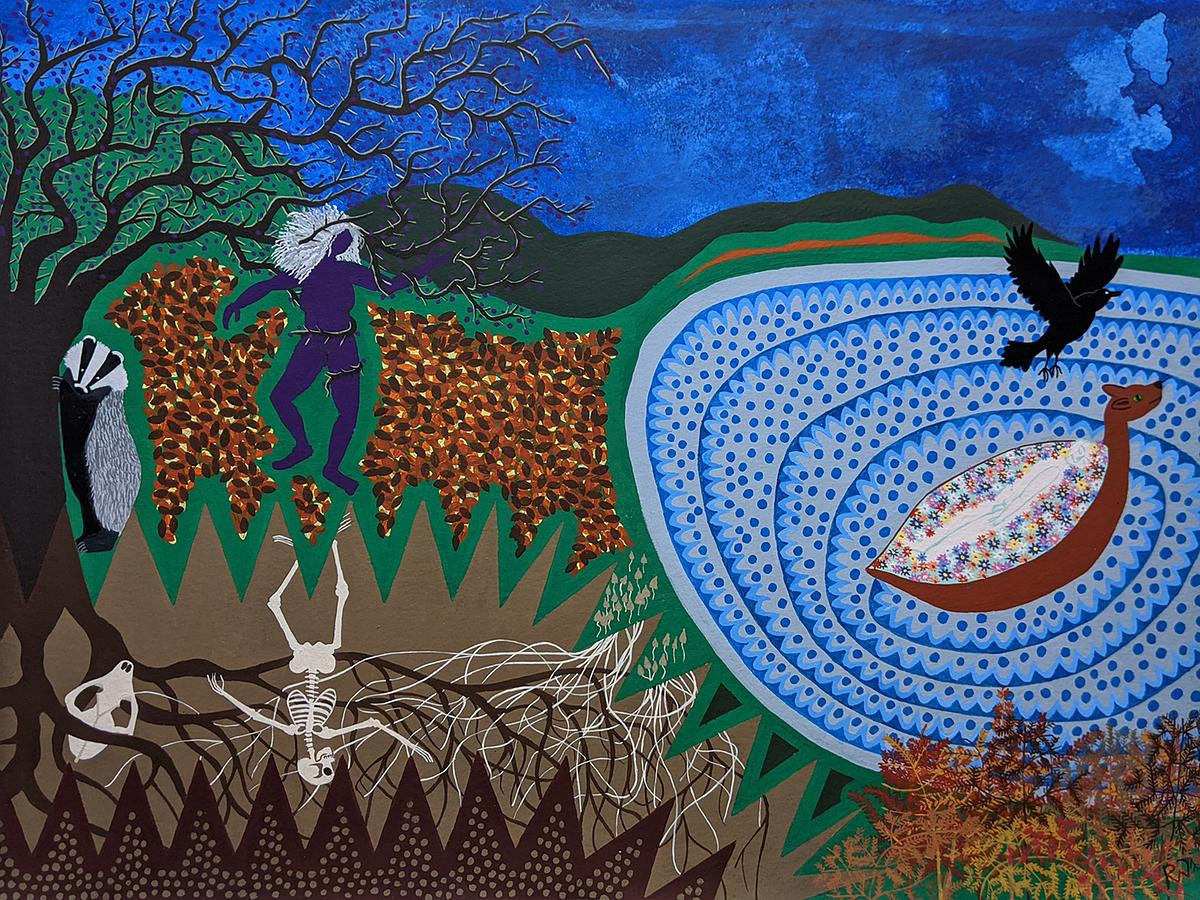 I made this painting in October 2020 following the death of a beloved friend in the UK in September. Due to lockdown I hadn't seen him since January, and even watched his funeral online. There are many blackthorns growing in my garden – small, dark trees with white blossom in Spring, purple sloes in Autumn and long black thorns. This tree is sometimes known as 'the Dark Mother of the Woods'. In those sad Autumn days they seemed to be mourning with me.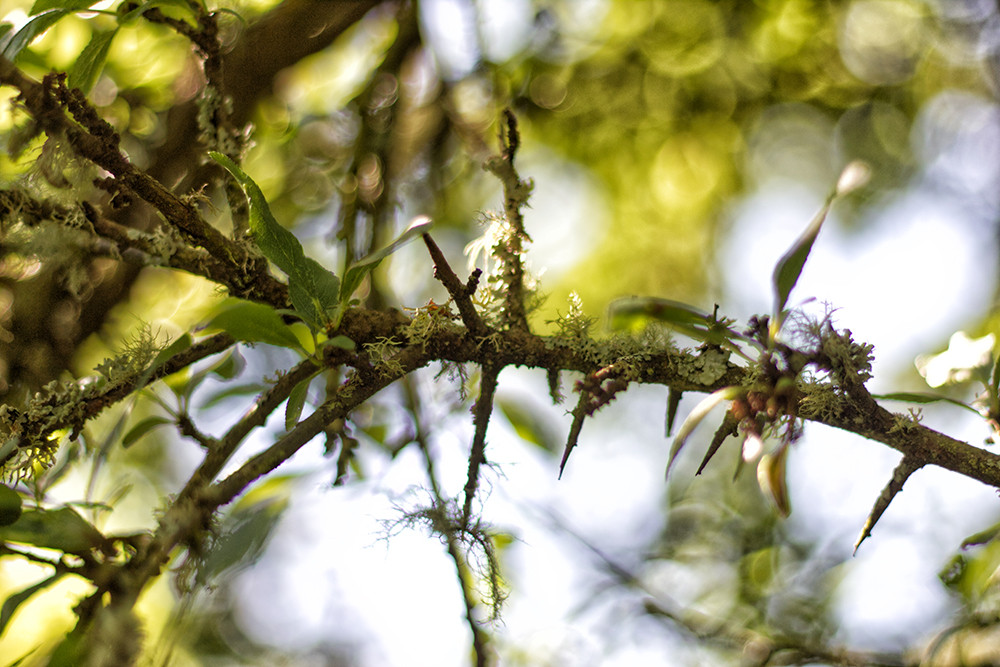 I don't watch much TV, but had really enjoyed Vikings, and remembered the portrayal of a boat funeral. Placing my friend in a boat also seemed about the fact that he had died out of reach - across the water. The accompanying raven is my oldest shamanic companion, able to go where I could not. Meanwhile the badger, spirit of my ancestors, stays as witness and support.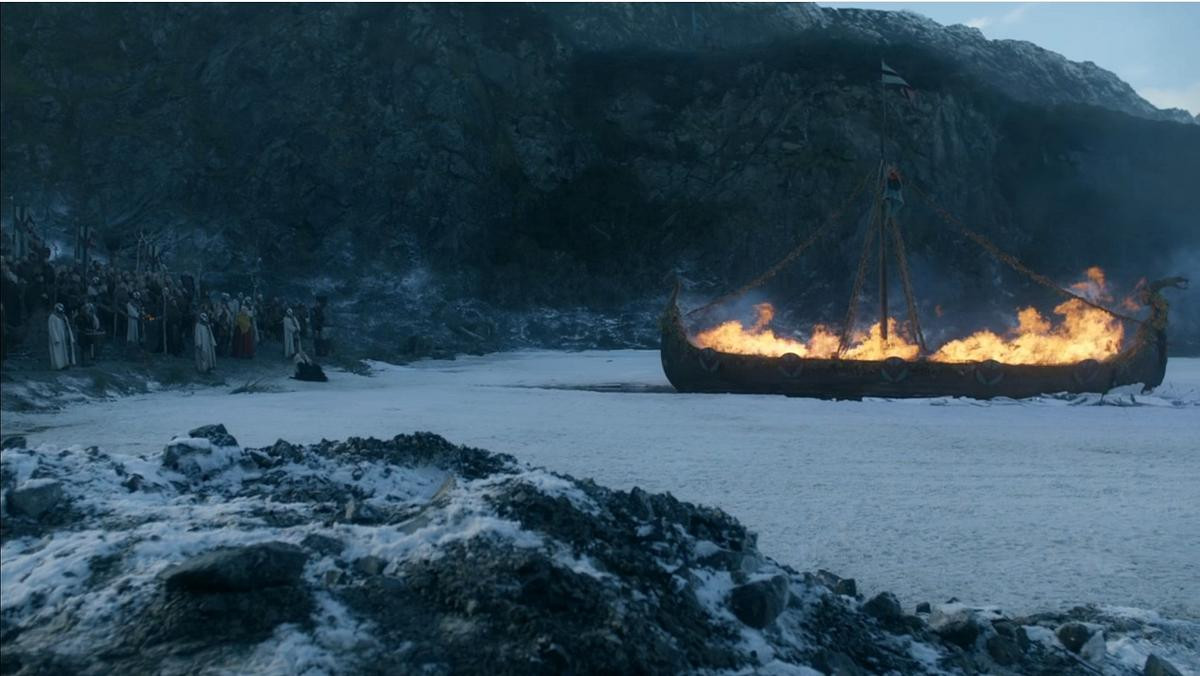 Obviously the bracken and leaves are the colours of Autumn and I am dancing my grief – tangled in the blackthorn that stops me following my friend as he departs. In this way the tree is protecting and holding me.
It was mushroom season – magic mushrooms along with all the others. I had been reading a lot about the fungus mycellium that links trees and forms an underground communication network. I imagined it also linking all that lives and dies in the Earth. And my own death waiting there, like a mirror of my living self, as it does for us all.
Call of the Wild
I made this painting between mid May and Mid June 2020. After the initial shock of Covid and the lockdown I was starting to feel better and appreciate that I could still walk in remote countryside where I live. This painting came from thinking about the wild versus the domestic in all our lives, both internally and externally. There are cows and sheep in the fields around me, but further up the hillside the cultivated and grazed land turns to bogland and rocky slopes, with some oak forest marking the transition. I was thinking about the disaster of ecocide and species loss as a result of our inability to find a balance between wilderness and human occupation, while also thinking that there really is hardly any wilderness here in Ireland, since almost every part has been shaped by animal husbandry and the felling of trees for human use through many centuries.
So I painted a cultivated field, a fence, a distant town and a particular solid fawn-coloured cow that lived in the field next door to me for several years to represent the domestic world. In the centre is the confrontation between the domesticated dog and the wild badger (the ongoing culling of which is very apposite to this painting's subject). They are intrigued but they might fight. Above is the shaman's drum – which takes me from my ordinary outer world to that wild inner domain where anything can happen and the rules do not apply.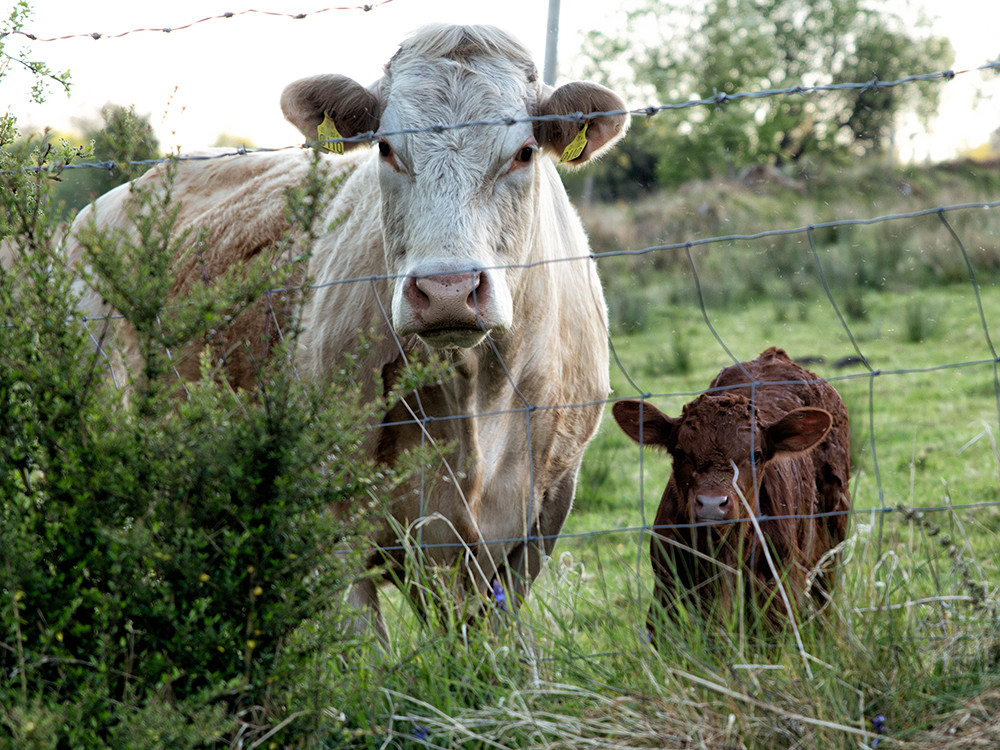 In the tree is a female version of Cernunnos, the horned god. This European version of the horned god (sometimes antlered) appears on the Gundestrup cauldron -  a richly decorated silver vessel found in Denmark and dating to about 150 BCE. My horned goddess figure is dropping the golden treasure of connection and belonging to the natural world from her hand.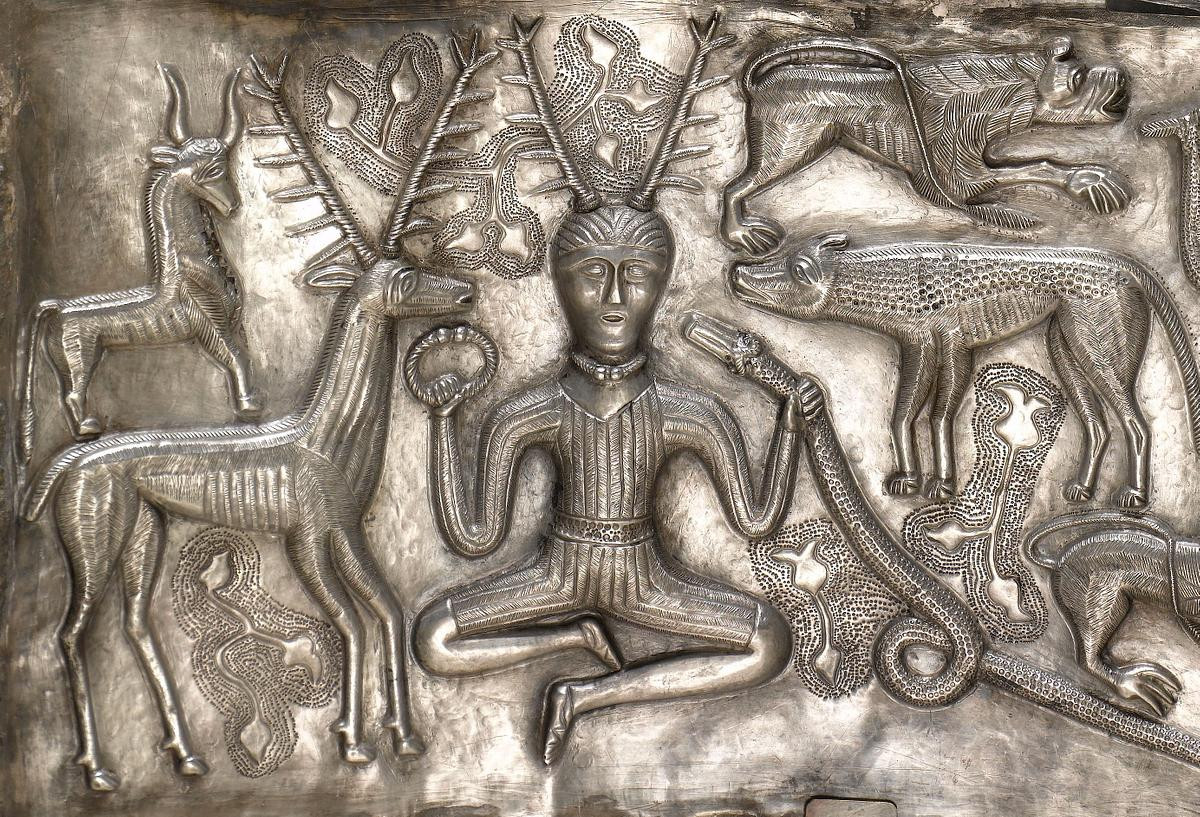 I love the symbolism of the tarot – in its many variations. Each card holds a host of meanings, many going beyond the realm of words to a more visual part of our understanding. In making a flag to mark the boundary in this painting I thought that the card called The Tower symbolized all that humans are doing that will cause our own downfall (along with that of many of our relatives on Earth). In www.thetarotguide.com is written: 'One positive aspect of The Tower is that the destruction it brings is usually directed at something that was built on a false beliefs and foundations or unrealistic goals and dreams.' But this is only a positive aspect if we survive the inevitable fall…